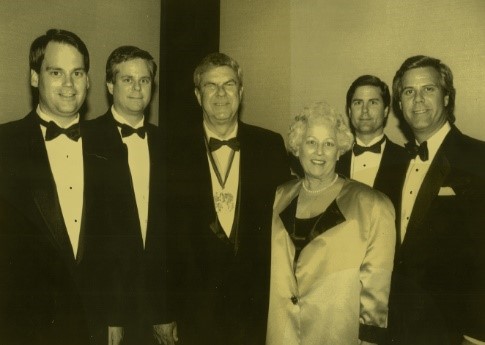 The Norcross Family:  
Left to right:  Philip A. Norcross, Esq, John C. Norcross, Ph.D, George E. Norcross, Jr, Ann Carol Conner Norcross, Congressman Donald Norcross and George E. Norcross III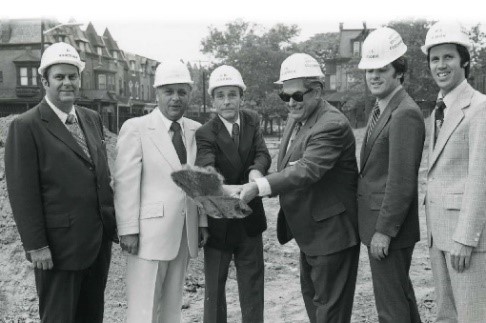 Breaking ground for the Kelemen Building, October 8, 1976. 
Left to right:  George E. Norcross Jr., Camden Mayor Angelo Errichetti, Herman Jenkins, Frank Kelemen, James Florio and William Simon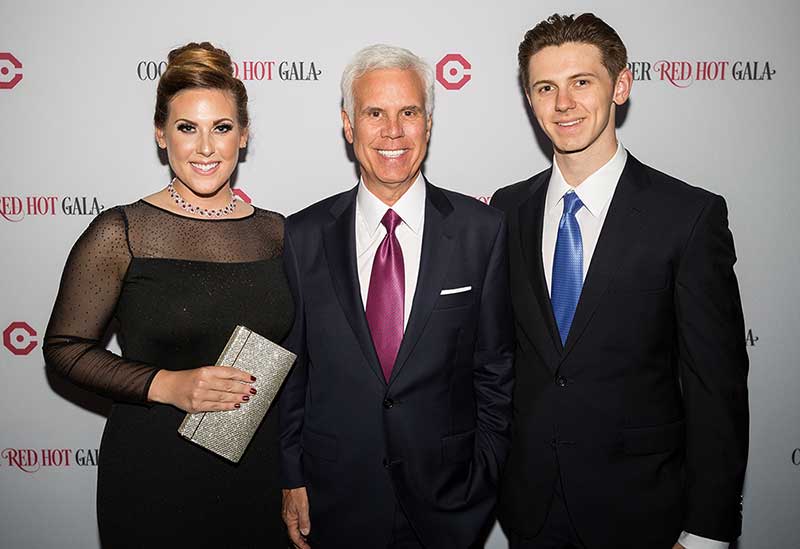 2019 Cooper Red Hot Gala
Left to right: Lexie Norcross, George E. Norcross III, Alex Norcross
The Norcross family's commitment to the community began with George E. Norcross, Jr., and Ann Carol Conner Norcross, the parents of George III, John, Donald and Philip.  This commitment now spans three generations.
George Jr. and Carol believed in civic involvement and family, championing efforts that would aid healthcare, education, community, and social services. George Jr. served on the Cooper Hospital Board of Trustees from 1976-1983. A quiet, but forceful advocate for the Camden community, he helped lead the fight to concentrate healthcare services in Camden and build a center of medical innovation to serve those in need, at a time when other hospitals were focusing on the suburbs. He was also a forceful advocate for a medical school in southern New Jersey, which was realized in 2012 when Cooper Medical School of Rowan University opened. His wife, Carol, was a driving force behind these community issues and initiatives and a champion for the elderly, working for years at the Camden County Senior Citizens Center.
The next generation of the Norcross family has carried on the legacy of their parents to maintain research, education and the highest quality of medical care in South Jersey.
George E. Norcross III is Chairman of the Board of Trustees of The Cooper Health System and has served as Trustee since 1990. He is the Executive Chairman of Conner Strong and Buckelew, one of the nation's largest insurance, risk management and employee benefits brokerage firms. Conner Strong and Buckelew, along with the Norcross Foundation (see below) donates to over 200 organizations every year. Conner Strong & Buckelew Community Involvement
George III has been recognized regionally and nationally for his leadership and contribution to the community, including receiving the New Jersey Hospital Association "Healthcare System Trustee of the Year" Award and the "Trustee of the Year" award by the Philadelphia Business Journal, among many others. Board of Trustees | Cooper University Health Care (cooperhealth.org)
Philip A. Norcross, Esq., serves as Chairman of The Cooper Foundation Board of Trustees. He is also a member of the Board of Trustees of The Cooper Health System and a member of the Executive Committee, Finance Committee, and Treasury Subcommittee. He is the Managing Shareholder and Chief Executive Officer of Parker McCay P.A., a New Jersey law firm based in Mount Laurel, New Jersey, whose members actively support social service, healthcare and youth initiatives. About Our Community Service | Parker McCay
US Congressman Donald Norcross, represents the 1st District of New Jersey. Congressman Norcross has developed a reputation as an effective, bipartisan reformer. Among his accomplishments, he led the charge to increase New Jersey's minimum wage and championed a groundbreaking effort to improve our economy and bring new, family-sustaining jobs to the region.
The Norcross Family established the Norcross Foundation decades ago to further the families' philanthropic efforts.  The second and third generations of the family serve in leadership roles, including brother, John and George III's children, Lexie and Alex Norcross.