All Students in Camden City Public, Renaissance, Charter, and Catholic Schools to Receive Facemasks as Part of Free Distribution by The Cooper Foundation and the Norcross Foundation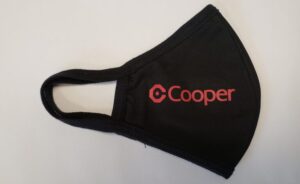 All students attending a public, renaissance, charter, or Catholic school in the city of Camden will receive a free, reusable facemask as part of an ongoing community distribution by The Cooper Foundation and the Norcross Foundation to help prevent the spread of COVID-19, announced George E. Norcross III, chairman of the Board of Trustees at Cooper University Health Care. In total, more than 16,000 masks will be distributed among every Camden student in pre-K through high school, attending any school.
"Education is critical to the future of every student in Camden and to the city's future. To ensure our students' safety, and their ability to learn, we wanted to make sure everyone was equipped with a mask to keep them safe and healthy," said Mr. Norcross.
This giveaway is the third phase of a plan by the two foundations to distribute more than 275,000 masks in the community. To date, tens of thousands of masks have been distributed to individuals, community groups, first responders, and educators throughout Camden City, and Burlington, Camden, and Gloucester counties. Last week, the Cooper Foundation and Cooper University Health Care distributed backpacks and school supplies to 1,800 Camden students.
"Since its inception, Cooper has supported its community, a legacy it has built on and expanded in recent years as it has helped lead Camden's renaissance. Distributing these face marks is just one more way Cooper's commitment to Camden's future is growing," said Philip A. Norcross, Chair of The Cooper Foundation.
"As an organization that has served the Camden community for more than 130 years, we wanted to ensure that all Camden school children have a safe and reliable mask as they begin another school year," said Kevin O'Dowd, JD, co-CEO of Cooper.
"Schools will require students to wear facemasks once they return to the classroom, and we want to give parents one less thing to worry about in getting their children back to school," said Anthony J. Mazzarelli, MD, JD, MBE, co-CEO of Cooper.
Officials at Cooper will work directly with school administrators to distribute the facemasks to students.