Cooper Foundation and CCPD Create Partnership to Support Community Engagement in Camden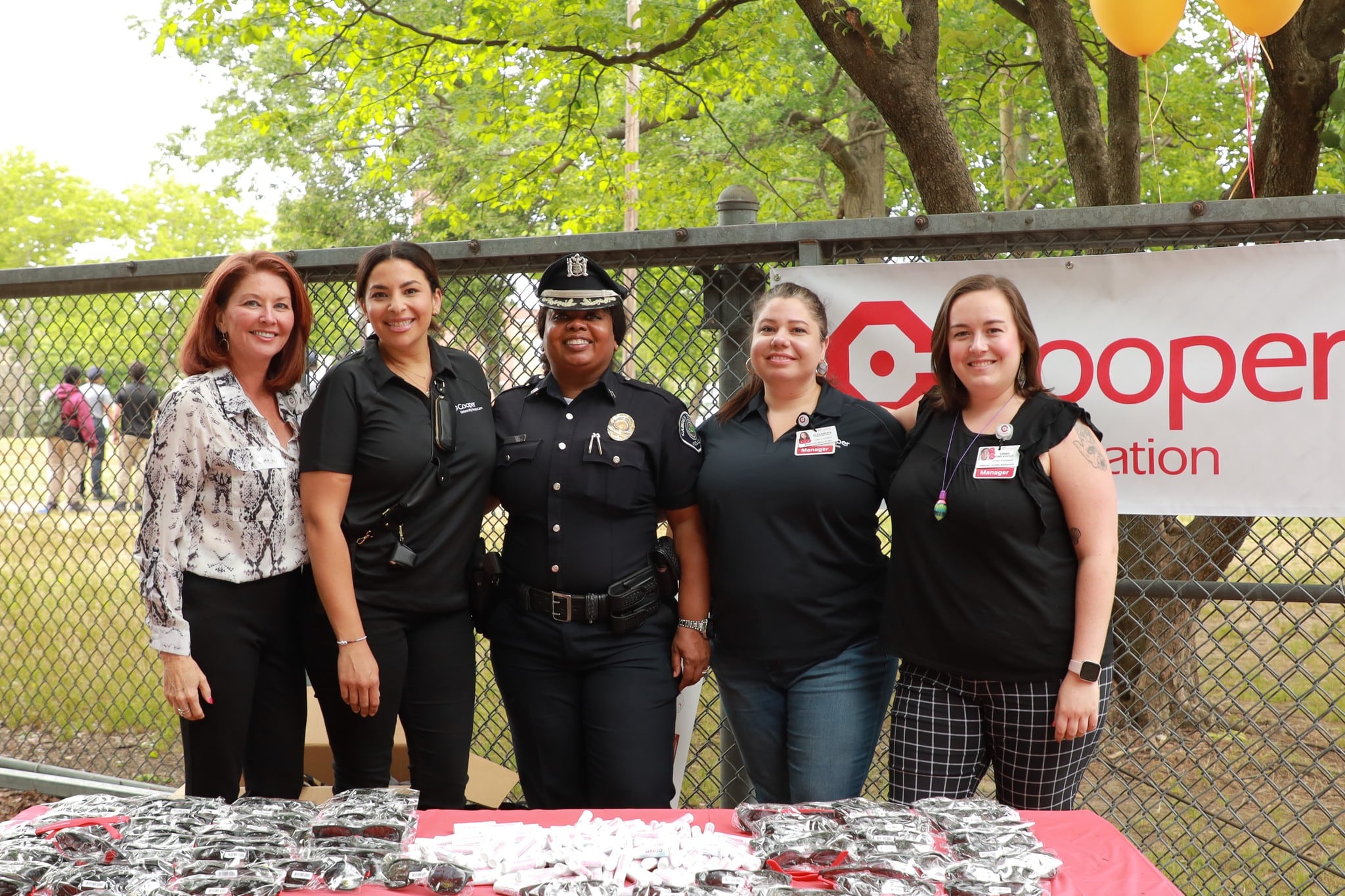 The Cooper Foundation with Capt. Vivian Coley of the Camden County Policy Department at the Veterans Memorial Family School, Cramer Hill, Camden, NJ. L-R: Lisa Morena, Vice President of Advancement for Corporate Relations, Mary Grace Perry, Research & Stewardship Coordinator, Capt. Vivian Coley, Alexandra Constantinou, Marketing Manager and Emma Kimenhour, Annual Giving Manager.
(CAMDEN, NJ) – The Cooper Foundation joined Capt. Vivian Coley and her outreach team at one of their regularly scheduled events with elementary students in Cramer Hill for a game of kick ball and video games to announce a $10,000 donation to support the agency and its community policing programing.
"As many of you know, Cooper has called Camden home for more than 130 years," said Robert A. Ortiz, Jr., J.D., senior vice president and chief philanthropy officer of the Cooper Foundation. "Many of this city's residents are not only our patients, but also many, many residents serve as part of the Cooper team delivering safe, high-quality care every day."
"We have a clear commitment to Camden, its residents, and our shared future – and that means investing in the city that has given so much to us, wherever we can."
"At the Cooper Foundation, we know that service to our community goes beyond the hospital walls. That's why we support the CCPD's Unity Policing programs – because we have a shared mission of making the communities we serve healthier, safer places to live, learn, work and thrive."
"On behalf of Cooper University Health Care and the Cooper Foundation, I'd like to thank the Camden County Board of Commissioners and Director Lou Cappelli and the Camden County Police Chief Gabriel Rodiguez for our partnership here in the City."
"A special thank you to Camden Mayor Vic Carstarphen who works so hard each day to improve the lives of those in the City of Camden. Along with Capt. Vivian Coley of CCPD and the outreach team who oversees this community outreach program, I want to thank you for your leadership and focus in Camden City."
"It's important also to acknowledge and thank our generous donors who also recognize Cooper's commitment to this community. Their support allows us to partner with local organizations like the CCPD to make a real change here in Camden and see it prosper."
Chief Gabriel Rodriguez has made unity policing a cornerstone of his tenure at the Camden County Police Department and has worked with stakeholders throughout the city to deliver on this innovative initiative.
"I cannot say enough about this donation and what it will mean for my officers in our neighborhoods this summer," Rodriguez said. "Cooper, as an anchor institution in the city, has always been a supportive partner and today, as in the past, they are giving us the opportunity to do more direct outreach in the city to ensure our officers have the tools they need to be guardians for our residents."
The donation will go to fund programs like Hoop it Up, meet the officers and a variety of other outreach events being done by the CCPD. In addition, these funds will go to supplying ice cream to children and families and barbecues throughout the neighborhoods in the summer.
"I want to applaud Cooper for their generosity and their commitment to our community," Camden County Commissioner Director Louis Cappelli Jr. said. "Cooper knows the meaning of real corporate responsibility and is always one of the first to the table when there is a need in the city and the county. Whether it's fighting COVID or supporting community policing Cooper has been there every step of the way."
###