Cooper Foundation Receives $50K Donation for Ovarian Cancer Research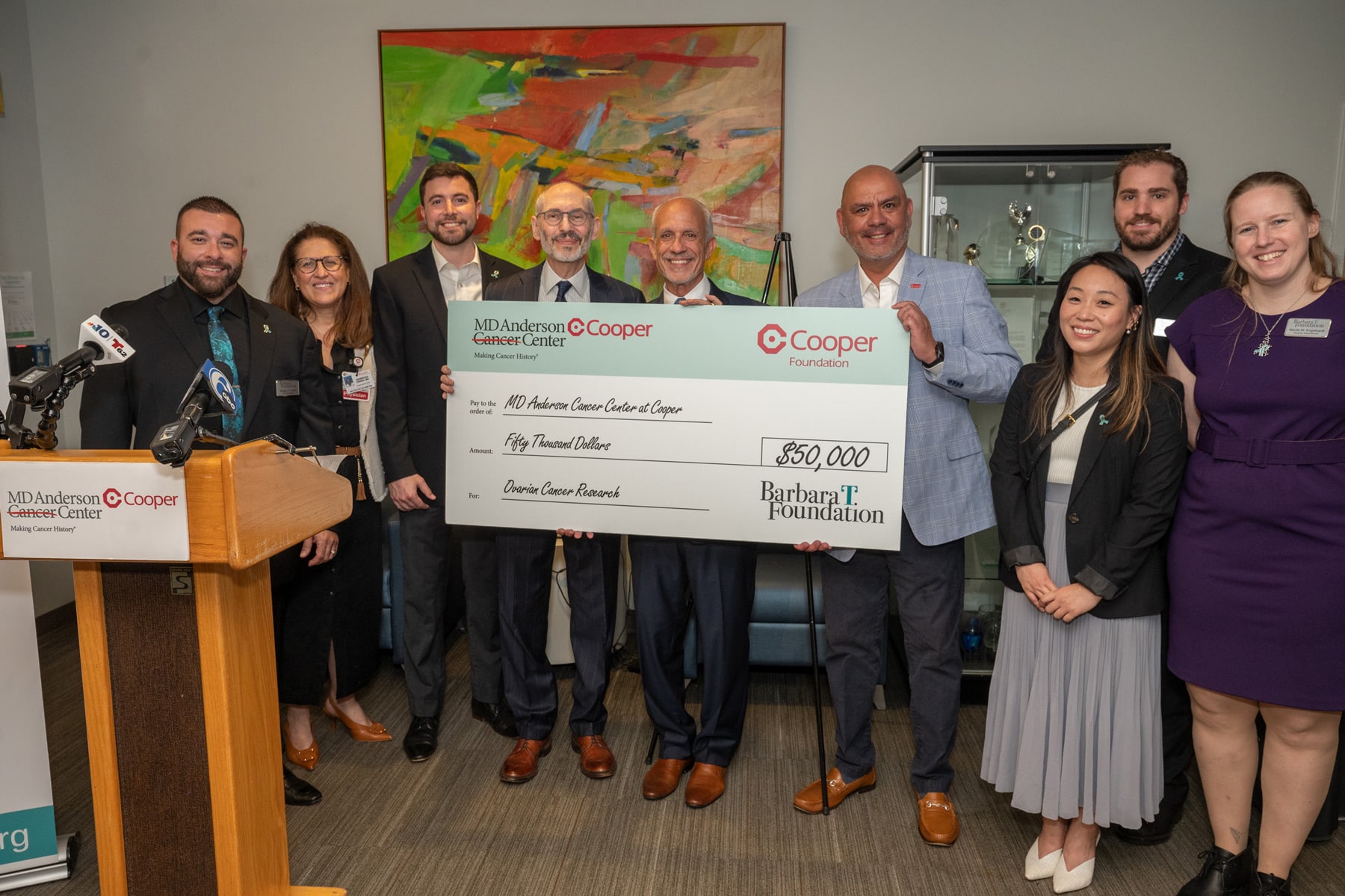 Donation Celebrates the life of Barbara T. Ferraro
(CAMDEN, NJ) – The Ferraro family of Langhorne, PA presented a check for $50,000 to the Cooper Foundation in honor of their loved one, Barbara, who lost her valiant six-year battle with cancer earlier this year at the age of 61. The funds will support ovarian cancer research at MD Anderson Cancer Center at Cooper.
"Barbara's faith, love, and passion to put an end to ovarian cancer will live on," said husband Jay D. Ferraro. "Her last wish was for us, her family, to raise money for ovarian cancer research."
Continuing the legacy, the Ferraro family created the Barbara T. Foundation with a mission to focus 100% of its time and resources on the prevention, detection, and cure of ovarian cancer by funding the most urgent pathways to a breakthrough.
"We know first-hand that the dedicated healthcare team at MD Anderson at Cooper is aligned in our mission to fast-tracking improved survival rates and a cure for ovarian cancer," Ferraro said.
"We want to recognize the incredible friends and family we have here at MD Anderson at Cooper, Dr Generosa Grana and Dr David Warshal and their staff. Without them, Barbara would not have received the incredible care that she had, a care that went way beyond medicine."
"The MD Anderson at Cooper team provided not only unmatched medical care but also made themselves available to Barbara whenever she needed them, while working tirelessly throughout the weeks and weekends to research treatments and clinical studies. Not just the treatments and studies currently available but also the groundbreaking treatments that were on the horizon for approval – always searching for that one special treatment that would bring about a cure."
"This generous donation is a testament to the dedication of our outstanding team here at MD Anderson at Cooper in providing the highest level of compassionate cancer care," said Philip A. Norcross, Esq., chairman of The Cooper Foundation. "We are grateful to the generous donors who support the life-saving work at MD Anderson at Cooper, allowing us to provide access to a full spectrum of services from advanced treatment options, screenings, genetic testing, clinical trials, to complementary medicine and survivorship programs that help to heal the mind, body, and spirit."
"We are especially honored when individuals like Barbara Ferraro and families touched by cancer generously support our efforts here at MD Anderson at Cooper, particularly when our team played a part in their treatment journey," said Generosa Grana, MD, FACP, director of MD Anderson at Cooper.
"This donation is a wonderful tribute to Barbara," said David P. Warshal, MD, FACOG, head of the Division of Gynecologic Oncology, of whom Barbara was a long-time patient. "It was truly a privilege to have come to know and love Barbara."
"It's grassroots fundraising like this that promotes our efforts to eliminate ovarian cancer and rest assured that we will continue the fight."
Robert A. Ortiz, Jr., J.D., Senior Vice President & Chief Philanthropy Officer of the Cooper Foundation, said it is thanks to the support of those such as the Ferraro family that Cooper is able to grow and serve the community.
"Thanks to our generous donors, such as the Ferraro family, we are able to provide world-class patient care, education and community programs, and fund research that leads to better treatments and cures."
Cooper's Gynecologic Cancer Center is the largest and most experienced gynecologic cancer treatment program in South Jersey. For more than three decades, the team of specialists has provided compassionate, advanced care to women with ovarian and other gynecologic cancers.
Recently, Cooper University Health Care announced a new, $2 billion expansion in the City of Camden, where it was founded 135 years ago.
Follow the Cooper Foundation on social media for the latest news or contact:
Alexie Constantinou
Marketing Manager
constantinou-alexie@cooperhealth.edu
###