"Dancing with the Gloucester County Stars" Participant Chooses The Cooper Foundation To Receive Competition Funds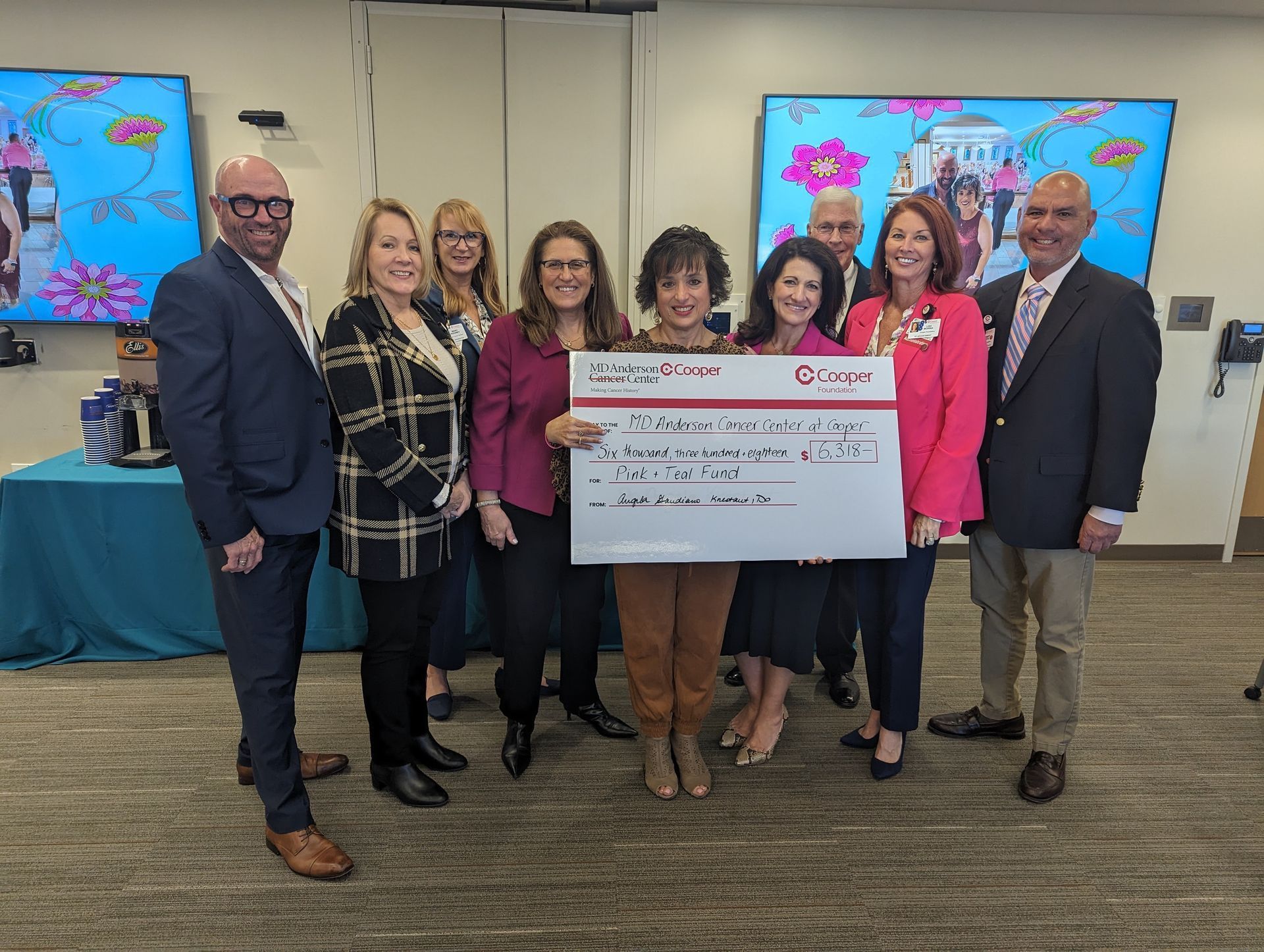 Donation benefits the Patient In Need fund for women with cancer
(CAMDEN, N.J.) – Cancer survivor Dr. Angela Knestaut presented a $6,318 check to The Cooper Foundation for the Patient in Need fund at MD Anderson Cancer Center at Cooper after representing the organization in this year's "Dancing with the Gloucester County Stars" fundraising competition.
Part of the "Pink Roses & Teal Magnolias" initiative, the fund provides small financial assistance grants for transportation, child care, prescriptions and other necessities to cancer patients in need. The grant also provides support for women in cancer treatment who need wigs and cosmetic support, who could otherwise not afford them.
"As a cancer survivor, I chose to direct the money towards the Pink & Teal 'Patient in Need' program because I want to pay it forward and ensure those affected by cancer can receive the assistance they need to help during treatments," said Angela Knestaut, DO of Advocare West Deptford Pediatrics.
Dr. Knestaut was inspired to enter the "Dancing with the Stars" fundraising competition during her own treatment journey at MD Anderson at Cooper. Hosted by the Greater Woodbury Chamber of Commerce, the competition is held annually and each participant fundraises for a non-profit of choice.
"As we know, treatment saves lives and I'm living proof of this. I'll be forever grateful to the team at MD Anderson Cancer Center at Cooper because they truly live out their motto and ensure no one fights cancer alone. Even though this awesome competition and fundraising effort has come to an end, I urge others to please keep supporting the cause so we can find a cure."
"Strong community partnerships and the collective strength of individuals such as Dr Knestaut are what help The Cooper Foundation drive real change in healthcare for our region," said Philip A. Norcross, Esq., Chairman of The Cooper Foundation Board. "Every donation has the power to help Cooper University Health Care deliver new research, new technology and new treatments that save lives. The generosity is that much more powerful when it comes from individuals who have lived through a challenging experience such as cancer."
"Every time we receive a donation it brings us closer to a world where every person touched by cancer is successfully treated," said Generosa Grana, MD, FACP, director of MD Anderson at Cooper. "Thank you to Dr Knestaut and to all our generous donors who put their faith in us every day and support our efforts here at MD Anderson at Cooper."