GivingTuesday 2023: The Impact of Your Donations to the NICU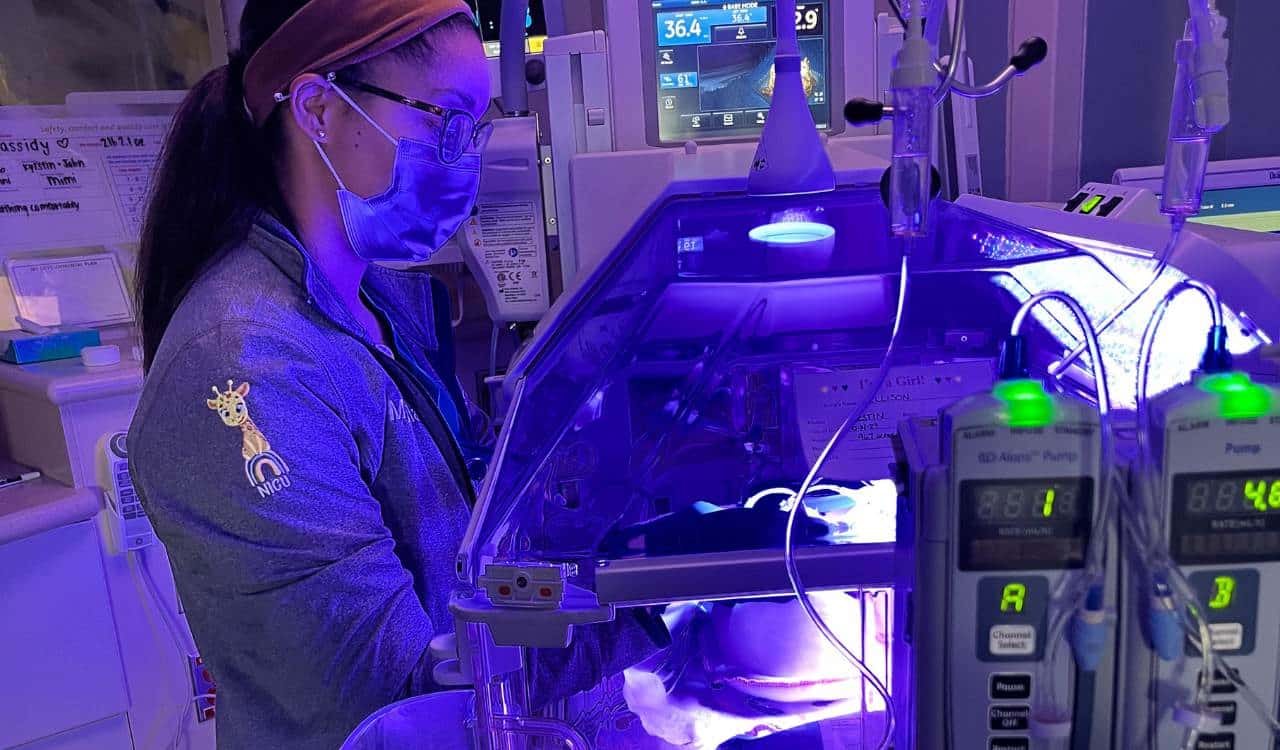 Cooper's Neonatal Intensive Care Unit (NICU) is the highest Level III NICU in South Jersey, bringing state-of-the-art infant and newborn care and surgical support close to home.
The Cooper Foundation team spoke with Lisa D'Averso BSN, CBC ACD, Associate Clinical Director of the NICU at Cooper University Health Care to find out more about how your donations help tiny, healthy lives at the NICU.
What are your patients most thankful for?
In the NICU our families are most thankful for our time at the bedside, our attention to detail and the way in which we celebrate each milestone. It's the small things that are greatly appreciated, like offering an extra pillow to comfort a parent while they are holding their baby, or providing personalized, hands-on teaching.
Another way we celebrate our NICU babies is by creating personalized memorabilia for our patients that include things like their names, footprints, current weight and milestones that they have achieved. Items we have created for families include scrapbook pages, achievement signs and holiday/season change cards. We plan to start a milestone bead project to mark each milestone with a different bead. These tangible items are keepsakes that families hold on to forever and remind them of how far their baby has come.
Why is public support, such as donations, necessary to the work you are doing?
Hospital funding covers the costs of medical equipment, but our little ones need so much more. Donations help their hospital bedside environment feel more like home, which is imperative for their neurodevelopmental advancement.
When parents have to leave their infant in our care, they can be reassured that their baby is left in a comfortable and cozy environment. Although our visiting policy allows parents 24 hour visitation, they are unable to be at the bedside every hour of every day due to personal care and needs such as sleep and the care of other children. Examples of items that have allowed us to provide comfort in their absence are infant swings, vibrating sensory tools, mobiles and soft light projectors. These items allow us to provide the high level of comfort and support that is needed for NICU babies to reach their milestones.
What is one thing about the work you do that you would like people to know?
We don't leave our compassion, support, empathy, or love, at the door when we leave work. We take care of some of these infants for an extended period of time – so long that we get to know not just the baby but their entire family.
Many of us have celebrated milestones with NICU families, spoke at services and been a sounding board and support during one of the most difficult times of their lives.
Whether a baby is in the NICU for a day or several months, it is their family's worst nightmare. To be separated from their infant, let alone the thought that their infant has something so wrong that it requires medical inpatient intervention, is horrifying.
We are the front line that encounters these distraught families. We never care for just the baby; we care for families.
We are so grateful for all the donations that help us go above and beyond for our NICU babies and families.
About the Neonatal Intensive Care Unit (NICU) at Cooper
When it comes to caring for babies who are seriously ill, have critical needs, or are born prematurely, the Neonatal Intensive Care Unit (NICU) at Cooper University Health Care offers the most advanced level of care possible to families throughout South Jersey.
Cooper offers on-site expertise for newborns and premature infants who have medical and surgical problems related to prematurity or who have respiratory, neurologic, immunologic, metabolic, or birth disorders. Our NICU is the highest Level III NICU in South Jersey, bringing state-of-the-art infant and newborn care and surgical support close to home.
The comprehensive level of care provided by Cooper's specialists continues even after a baby is discharged from the NICU. Through Cooper's Neonatal Follow-up Clinic, our neonatologists and specialists continue to care for babies in cooperation with each family's pediatrician. We also offer psychological support to patients and families who are struggling with distress related to medical issues, skilled social workers helps to coordinate services, including your own support structure, financial and insurance arrangements, and even housing needs, a Ronald McDonald family waiting room, pastoral care, lactation specialists, and a commitment to on-going research and education.