MD Anderson Cancer Center at Cooper is First Cancer Center in Region to Treat Patient with Breakthrough Radiation Treatment Technology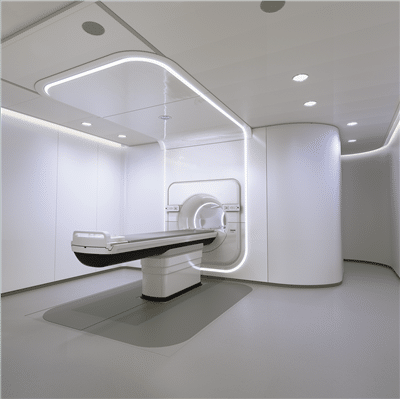 (MOUNT LAUREL, NJ) – This week, physicians at MD Anderson Cancer Center at Cooper treated their first patient with a groundbreaking new image-guided radiation treatment system that combines magnetic resonance imaging (MRI) and linear accelerator radiation treatment (Linac) into one powerful device. The new device gives radiation oncologists the ability to deliver more effective treatment, while minimizing damage to surrounding healthy tissue in complex cases. MD Anderson at Cooper is one of only five cancer centers in the U.S., and the first in the region, to offer patients this treatment technology. The first patient to be treated using the Elekta Unity system at MD Anderson at Cooper was an 80-year-old woman with a tumor on her spine. The patient's tumor, which is precariously located, made her an appropriate candidate for this precision therapy. "This is an exciting time for us and tremendous news for patients needing radiation therapy," said Anthony Dragun, MD, chair and chief of Radiation Oncology at MD Anderson at Cooper. "It gives our multidisciplinary team more treatment options, especially for patients with complex and metastatic cancers, and deliver truly personalized cancer care." While MR-guided radiation treatment has been available for a few years, the new technology provides clarity of imaging due to its extremely powerful magnet. "As the leading cancer center in the region, MD Anderson at Cooper is committed to offering patients innovative cancer treatment options. The availability of the new MR-Linac is the latest example of this commitment," said Kevin O'Dowd, JD, co-CEO of Cooper University Health Care. "This is another first in our arsenal of treatment options at MD Anderson at Cooper, and we are proud to be the first in the region and among only a handful of hospitals in the nation currently to offer this new therapy to our patients," said Anthony J. Mazzarelli, MD, JD, MBE, co-CEO of Cooper.
Combining two technologies for one powerful solution
Approximately 50 percent of all cancer patients receive radiation therapy as part of their treatment plan. A primary objective in radiation therapy is to deliver the proper dose of radiation to the tumor without harming surrounding healthy tissue. Because the location of a tumor can shift as the patient inhales and exhales during treatment or as the tumor itself changes, maintaining accuracy can be challenging, explained Dr. Dragun. "The device acts as a GPS system – continuously monitoring the tumor as it moves and readjusting the radiation beams in real time – for the ultimate in precision." While MRI and linear accelerator technologies have been used separately for years to diagnosis and treat cancer, until now the two technologies could not be used together because of the MRI's magnetic field and its effect on the accelerator's laser beam. MD Anderson Cancer Center in Houston, MD Anderson at Cooper's clinical partner, was part of the international consortium instrumental in developing this new technology. This technology was approved by the U.S. Food and Drug Administration in 2019. Treatment with this new device is available at MD Anderson at Cooper's outpatient center located at 715 Fellowship Road in Mount Laurel, NJ. "Our outpatient center in Mount Laurel provides easy access and convenient hours. We look forward to offering this new service to patients," said Megan Mezera, MD, director of the MR Linac Program. MD Anderson at Cooper will continue to offer a full range of advanced radiation therapy treatment options at its Camden and Voorhees locations. For more information about MD Anderson at Cooper as well as this and other treatment options, visit https://www.cooperhealth.org/services/md-anderson-cancer-center-cooper.

About MD Anderson Cancer Center at Cooper
In October 2013, Cooper University Health Care and MD Anderson Cancer Center in Houston, Texas, partnered to create MD Anderson Cancer Center at Cooper. MD Anderson is one of the nation's leading cancer hospitals.
This partnership is a full clinical integration between our two programs. MD Anderson at Cooper physicians adhere to the same philosophy, processes and guidelines set by MD Anderson in Houston, and patients receive the same proven practice standards and treatment plans provided at MD Anderson.
Today at MD Anderson at Cooper, patients have access to more clinical trials, as well as a full range of supportive care services.
Advanced, comprehensive cancer services are provided at our Camden, Voorhees, and Willingboro locations. The Cooper Digestive Health Institute locations are fully accredited MD Anderson at Cooper locations providing innovative gastrointestinal cancer prevention, detection, and treatment services. Additional cancer clinical services are provided at multiple locations throughout South Jersey including Mount Laurel, Sewell and Egg Harbor Township.

About Cooper University Health Care
Cooper University Health Care is the leading academic health system in South Jersey. Cooper includes a leading cancer center, MD Anderson Cancer Center at Cooper, South Jersey's only Level I trauma center, located at Cooper University Hospital, and the only Level II pediatric trauma center in the Delaware Valley, located at Children's Regional Hospital. In addition, the health system is home to one of the largest physician groups in the region, four urgent care centers, and more than 100 outpatient offices throughout South Jersey and Pennsylvania.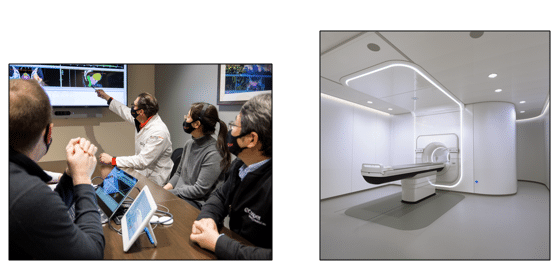 CAPTIONS:
Photo #1 – Dr. Anthony Dragun (white coat) reviews treatment plan with members of the medical team at MD Anderson Cancer Center at Cooper.
Photo #2 – The Elekta Unity MR Linac device