New Vaccine Eligibility in New Jersey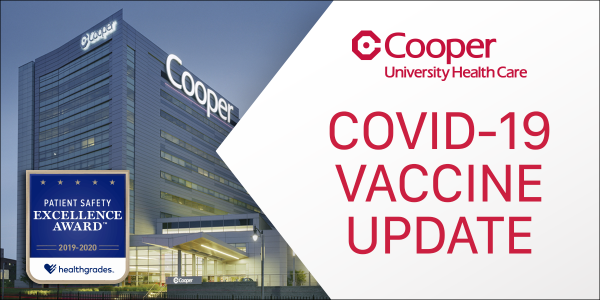 The State of New Jersey has expanded eligibility for the COVID-19 vaccine to several million more people in the state. Starting today, January 14, 2021, eligibility has been expanded to include:
Persons aged 65 and older
Persons aged 16 to 64 years old, who have at least one of the following chronic medical conditions that poses high-risk for severe COVID-19:
Cancer
Chronic kidney disease
Chronic obstructive pulmonary disease (COPD)
Down syndrome
Heart conditions (including heart failure, coronary artery disease, and cardiomyopathy)
Obesity (BMI greater than 30)
Sickle cell disease
Type-2 diabetes
Smoking
Immunocompromised due to organ transplant (talk to your doctor)
Pregnancy (talk to your doctor)
Individuals who fit into any of the above-listed categories are eligible and will have to register at a public vaccination site. For a full list of open vaccination sites throughout New Jersey, click here.
Cooper University Health Care does not handle vaccine scheduling.
Additionally, Camden County opened a vaccination site at the Camden County College Blackwood Campus today. You can schedule an appointment online at Camden County Vaccination Center | Camden County, NJ.
For additional information, you can access the State of New Jersey's COVID-19 information hub.