Ready Nutrition Donates Protein Water to Cooper University Health Care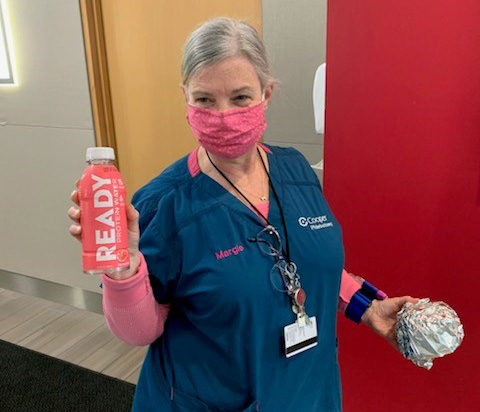 CAMDEN, NJ — Ready Nutrition, a Pittsburgh-based sports nutrition company, has donated a large supply of its Protein Water to Cooper University Health Care as a way to support healthcare workers on the front line of the COVID-19 pandemic. Cooper received 612 cases of the product (more than 7,300 bottles) with an estimated retail value of nearly $10,000.
"We appreciate Ready Nutrition, and Pat Cavanaugh and Aaron Donald, for this generous donation to Cooper and is another great example of businesses supporting our front-line clinical staff," said Kevin O'Dowd, JD, co-president/CEO of Cooper.
"This is a generous gift, which is much appreciated, that will directly benefit and invigorate Cooper's dedicated staff who are working long, hard hours and selflessly giving of themselves to help people in need," said Anthony J. Mazzarelli, MD, JD, MBE, co-president/CEO of Cooper.
About the Cooper COVID-19 Assistance Fund:
The Cooper Foundation established a COVID-19 Assistance Fund in response to numerous requests to support Cooper University Health Care, South Jersey's leading academic health system, during the pandemic. To date, Cooper has received significant donations from the Philadelphia 76ers, UberEats, Apple, and many other gifts from numerous businesses, restaurants, and individuals. To learn more about the COVID-19 Assistance Fund, please visit foundation.cooperhealth.org/covid-19. To make a donation of critically needed PPE supplies, please email COVID19Assistance@cooperhealth.edu.
About Ready Nutrition:
Ready Nutrition was founded in 2012 by former University of Pittsburgh basketball team captain and Ernst & Young Entrepreneur Hall of Fame member, Pat Cavanaugh. Ready is a fast-growing sports nutrition company that specializes in supporting athletes achieve their goals with all-natural sports nutrition products. The company's products include their best in-class protein waters, sports drinks, protein and snack bars, protein powders and plant based functional snacks. Its products are currently available in over 8,000 retail outlets across North America. Over 200 college and university athletic programs provide their student-athletes with Ready products and the brand is the Official Sports Nutrition Brand of four NCAA Division 1 Conferences. Two-time NFL Defensive Players of the Year, Aaron Donald of the LA Rams, is an investor and owner in the company. Ready has been chosen as the Official Sports Drink of The Amateur Athletic Union (AAU), the largest athletic organization in the United States with over 700,000 athletes that compete in 41 sports.