"Sneakers for Heroes" and Boston-based Streetwear and Sneaker Retailer Concepts Donates more than 1,000 Shoes for Resident Physicians at Cooper University Health Care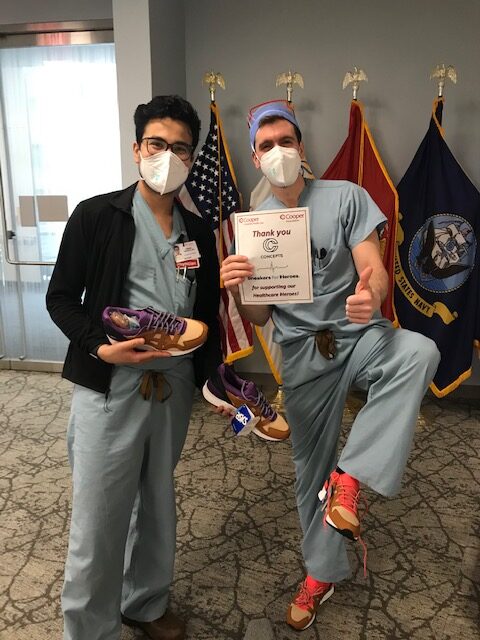 (Camden, NJ) – Cooper University Health Care received a generous donation of more than 1,000 pairs of shoes thanks to Boston-based streetwear and sneaker retailer Concepts as part of the national "Sneakers for Heroes" program. The shoes will benefit Cooper's medical residents and fellows.
Sneakers for Heroes is an initiative to distribute free footwear to medical professionals fighting on the frontlines during the COVID-19 pandemic. Sneakers for Heroes partners with footwear brands and retailers to deliver brand new footwear directly to essential medical workers. Concepts, which has retail locations in Boston and NYC, joined the initiative to support these health care personnel.
The donation was made possible, in part, by the efforts of Michael Post, DO, a fifth year Fellow in the Division of Pulmonary/Critical Care Medicine at Cooper. Dr. Post heard about the program and reached out to Sneakers for Heroes.
"We commend Dr. Post for his initiative and are extremely grateful to Concepts and the Sneakers for Heroes program for this incredible gift, which will benefit our hardworking resident physicians," said Kevin O'Dowd, JD, co-CEO at Cooper.
"As a leading academic health system, our medical residents and fellows are an integral part of our medical team and have provided critical support throughout the pandemic," said Anthony J. Mazzarelli, MD, JD, MBE, co-CEO at Cooper.
"We have a responsibility to do everything we can to help the community during these unprecedented times," said Concepts Chief Executive Officer Tarek Hassan. "We would like to thank the healthcare workers on the front line leading the fight who are helping us win, one step at a time."
"I founded Sneakers for Heroes as an initiative to express gratitude to our healthcare heroes who continue to fight on the front lines during the COVID-19 pandemic," said Jennifer Barthole, Founder of Sneakers for Heroes. "I'm so appreciative of the Concepts and Lede media teams for partnering with me to donate to Cooper University Health Care. Hopefully a new pair of supportive sneakers will offer the team some physical relief and hopefully will put a smile on their faces."