Subaru of America Donates Vehicle for Cooper University Health Care EMS Services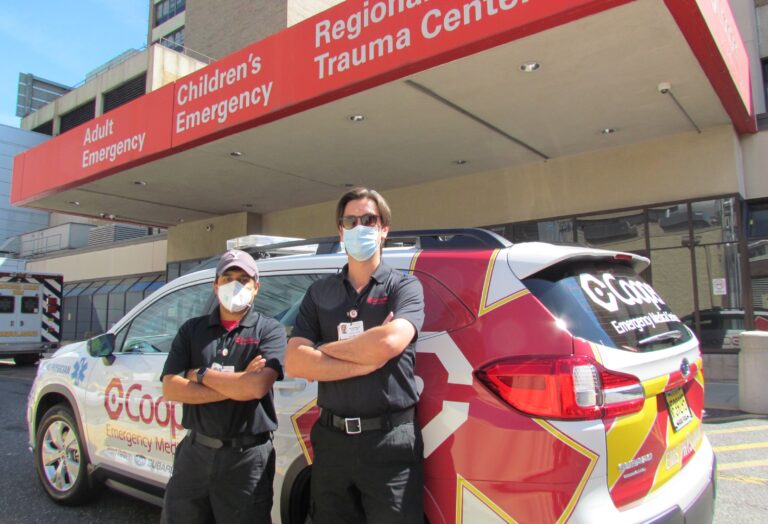 (CAMDEN, NJ) – Subaru of America, Inc. has donated a new vehicle to Cooper University Health Care to expand its Emergency Medical Services (EMS) fleet. The 2020 Subaru Ascent SUV will be used by Cooper Emergency Medical Services physicians in the community as back-up support for Cooper's Basic Life Support (BLS) and Advanced Life Support (ALS) units responding to 911 calls.
"This vehicle donation will enable Cooper to better serve the citizens of Camden. We are thankful for this generous support from our Camden neighbor," said Kevin O'Dowd, JD, co- CEO of Cooper.
"Cooper EMS responds for more than 40,000 calls for service annually and, in light of the COVID-19 pandemic, this new vehicle will allow us to enhance our services," said Anthony J. Mazzarelli, MD, JD, MBE, co-CEO of Cooper.
Through Subaru Loves to Care, the health-focused philanthropic pillar of the Subaru Love Promise vision, Cooper received support for four vehicles from the automaker in 2015. As part of this ongoing initiative, Subaru in conjunction with The Leukemia & Lymphoma Society (LLS), has also donated blankets and messages of hope to cancer patients and their families at MD Anderson Cancer Center at Cooper for four consecutive years. Subaru has also supported other initiatives at Cooper over the years including funding for community programs, the Children's Regional Hospital at Cooper, The Cooper Foundation's Pink Roses Teal Magnolias event for women's cancer, and the Camden Health & Athletic Association.
"At Subaru, we are committed to providing support to local organizations and to being good stewards in our community," said Thomas J. Doll, President and CEO, Subaru of America, Inc. "We hope the donation of a Subaru Ascent to Cooper University Health Care's EMS team will further help them to support those in need, especially during these trying times."
Cooper has been providing integrated basic and advanced life support EMS services for the city of Camden since January 2016. In addition, Cooper EMS provides additional community outreach, education, and training services including the national "Stop the Bleed" training to other local first responders, agencies, schools, and residents. Cooper EMS participates in dozens of community events annually, provides stand-by services at community and sporting events, and has been recognized by a number of agencies for their service. Cooper EMS is one of the first in the nation to offer paramedic administered buprenorphine treatment in the field as part of addiction treatment services.