The Cooper Foundation's Outdoor Brunch & Golf Outing Raises $50,000 for Breast and Gynecologic Cancer Care and Research at MD Anderson Cancer Center at Cooper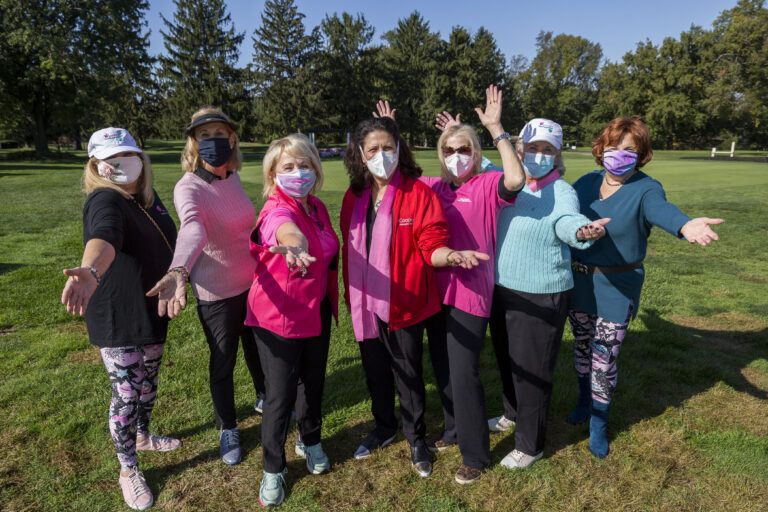 CAMDEN, N.J. – Today, The Cooper Foundation announced that the Pink Roses Teal Magnolias Outdoor Brunch and Golf Outing raised $50,000 for breast and gynecologic cancer research and clinical programs at MD Anderson Cancer Center at Cooper.
More than 120 guests and golfers attended the ​sold out, socially-distant outdoor brunch and nine-hole golf outing at Ramblewood Country Club in Mt. Laurel, NJ. The event also featured raffles, a hole-in-one contest and a special appearance by Ron Jaworski, former Philadelphia Eagles quarterback and owner of Ramblewood Country Club, who co-hosted the event with his wife, Liz, a cancer survivor and a member of the Pink Roses Teal Magnolias Host Committee.
"Ron and I are thrilled to host the first ever Pink & Teal Golf Outing," said Liz Jaworski. "We are fortunate to be involved with many charitable organizations, but for me, supporting women fighting cancer is personal."
"We are extremely grateful to my friends Ron and Liz, Event Sponsor PSE&G and all of our guests for making the first Pink Roses Teal Magnolias Golf Outing a success," said George E. Norcross, III, Chairman of Cooper University Health Care. "COVID-19 has changed our world, but the commitment of our community has never wavered."
Pink Roses Teal Magnolias is the largest breast and gynecologic cancer fundraiser in the Delaware Valley. Its signature event is an annual brunch hosted each October, drawing over 900 people. Because safety is Cooper's top priority, the 11th Annual Pink & Teal Brunch will go virtual this year, with a special online program on Sunday, Oct. 25.
"As we are unable to gather in person for this year's annual brunch, I am proud that the Pink & Teal Host Committee and The Cooper Foundation organized this golf outing to allow us to get together and safely support this cause," said Philip A. Norcross, Chairman of The Cooper Foundation Board of Trustees.
Since 2010, Pink Roses Teal Magnolias has raised more than $6.5 million – all of which stays local to support cancer patients and their families in South Jersey. Funds have been used to support research and education, the Patient In Need Fund, new technology, the Survivorship Program, and the Dr. Diane Barton Complementary Medicine program which utilizes therapies designed to lessen the pain, stress and anxiety associated with cancer.
"In addition to raising millions to fight women's cancer, Pink Roses Teal Magnolias serves as an inspiration to so many survivors and their families across the region," said Susan Bass Levin, ovarian cancer survivor and co-chair of the event. "To be able to keep our movement going, even in the midst of a global pandemic, shows there is hope for brighter days ahead. Cancer is relentless, and so are we."
The Pink Roses Teal Magnolias Outdoor Brunch and Golf Outing was co-hosted by Liz & Ron Jaworski, Susan Bass Levin, Fran Lunsford, Marlene Rubin, Vicki Stein and Nancy Weber.